We've made strawberry ice cream before, but have never been blown away by the results. It's been pretty good at best. We really wanted to find a recipe that just knocked our socks off. While looking through a new cookbook recently, we found it!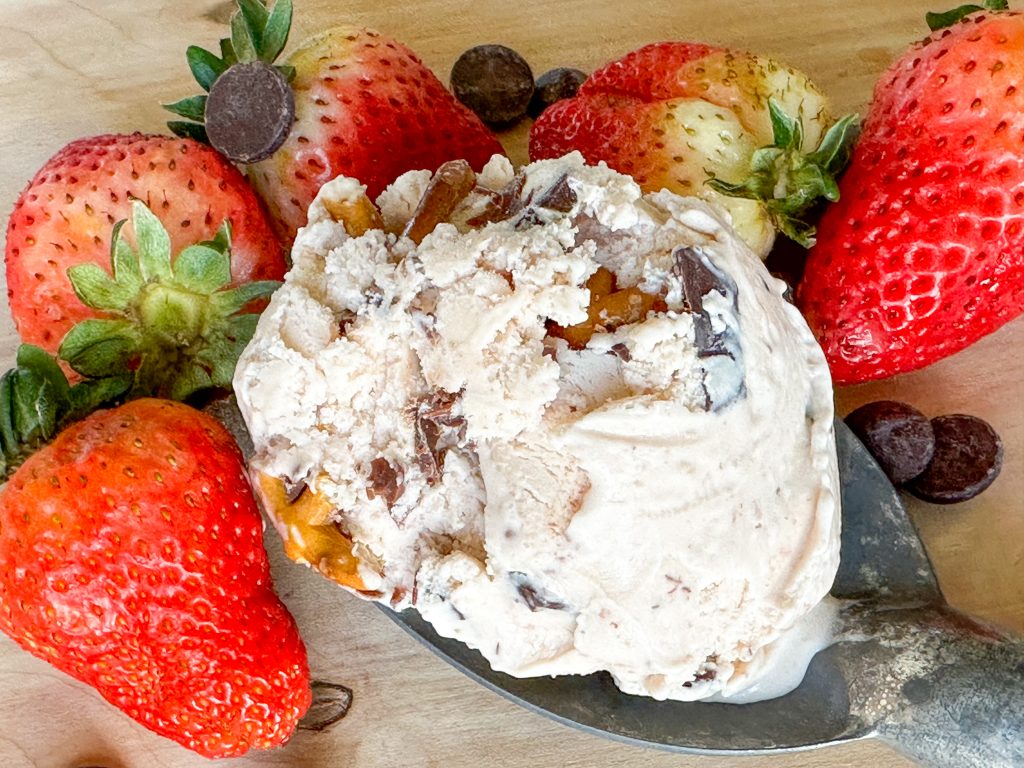 Words cannot describe how amazing and aromatic this ice cream is! The sign of a really good quality strawberry ice cream, we have found, is that it is NOT bright pink. It's almost white, but don't let the absence of color fool you. The flavor is OUT OF THIS WORLD!
Strawberry Chocolate Pretzel
Not joking, some of the best ice cream we have ever made!
Ingredients
2 cups heavy cream

1/2 cup whole milk

1 cup sugar (divided)

1/4 tsp salt

6 egg yolks

10 oz frozen strawberries

1 Tbs lemon juice

Chocolate Chunks and other mix ins

1/2 cup chocolate chips (I used bittersweet)

1 tsp oil (like coconut or avocado)

Chopped chocolate covered pretzels
Directions
Combine the frozen strawberries, lemon juice, and 1/4 cup of sugar. Let that sit in a bowl, allowing the strawberries to macerate for at least 2 1/2 hours.
Whisk the egg yolks until they are light and fluffy, about 2 minutes. Slowly whisk in 3/4 cups of the sugar and salt until the color turns lighter and the consistency is smooth, about 2 minutes more.
Add the egg/sugar mixture to a sauce pan along with the milk and cream. Heat on medium low heat until it reaches 162, stirring frequently and scraping the bottom with a spatula to avoid cooking the eggs. 
Turn the heat on low once it reached temperature and stir constantly, letting the mixture reduce, for about 10 minutes.
Add base to a plastic gallon bag, and put in a prepared ice bath until cooled (about 15-20 minutes). While that cools, prepare the strawberry sauce.
For the strawberry, take the macerated strawberry mixture and mash with a masher.
Combine the strawberry and cooled custard into another bowl and blend with an immersion blender until no chunks remain.
Add the prepared strawberry base to the ice cream maker. Make in your ice cream maker based on the maker's instructions. 
During the last 5-10 minutes in the machine, when the ice cream is about the texture of soft serve, add the chocolate chunks and chopped chocolate pretzels. Don't add it all in! Add handfuls at a time until you get your desired chunkiness.
Move to the freezer until hardened (at least 4 hours).
Chocolate Chunks
Add the chocolate chips and coconut oil to a microwave safe bowl. Microwave 30 seconds at a time, stirring in between to help prevent burning it.
Spread the chocolate into a thin layer on a cookie sheet lined with parchment paper. Move to the freezer and allow to harden.
Right before it is time to add the chocolate chunks to your ice cream, remove the cookie sheet from the freezer and chop the chocolate into small pieces. Add them back into the freezer for a minute before adding them to the ice cream. They melt fast so be quick!